nasTunes for iPhone and iPod Touch
Last updated 19th May 2009
nasTunes streams music and videos from your NAS (or any computer in your network) to your iPhone or iPod Touch (or any device with a web browser). Since nasTunes doesn't need any media server like Firefly or SqeezeCenter to run, it's fast even on low budget devices.
nasTunes runs or your NAS and since it's accessed with Safari or any web browser you don't need any special app to listen to your music or watch your videos. If you have access to your NAS through the internet (for example by way of DynDNS), you can access your media from any web browser anywhere in the world (though as of yet the interface is optimized for iPhone/iPod Toch use only). Screenshots of the web interface can be seen below.
nasTunes 1.0 is now available at SourceForge.
What you need
Wireless LAN and a NAS device or any computer running a web server like lighttpd or Apache and PHP. Many NAS devices use Linux, so even if there's no web server or PHP preinstalled, it can be done on many devices.
A music library that's stored in a specific directory structure (one folder for each artist, one subfolder for each record, that's the iTunes standard structure many people use for their library).
An iPhone or iPod Touch, Safari for accessing the nasTunes web interface.
What you get
A fast way to browse your music and video library without the need to sync your iPhone/iPod Touch
Playback your music in any room of your home using the WIFI network and an iPod dock. No need for expansive hardware. If you have access to your NAS through the internet you can even access your media files anywhere in the world (as long as you're online).
Full text search for artists
Covers and ID3 info (artist, album name, year, genre) will be shown - if existent - for albums.
List of recently played albums
Playback options for albums: Loop, Shuffle, play from specific track, play selected tracks, loop selected tracks, shuffle selected tracks.
Parental control: For those who don't want to share everything in their library there's the possibility to hide artists and albums. If you use http authentication there's the possibility to define a superuser who can see all items.
What you don't get (yet)
Since nasTunes was specifically developed for low budget NAS devices and speed was the prime concern, there are some functions missing that one can usually find in similar software. These features may be implemented in future releases of nasTunes.
Search for albums and songs: All the artist, album and song information is read from the file system. So as of yet there's is no search function for albums or songs, since it would just be too slow to get that kind of functionality without the use of a database.
Support for playlists has not been implemented yet.
Screenshots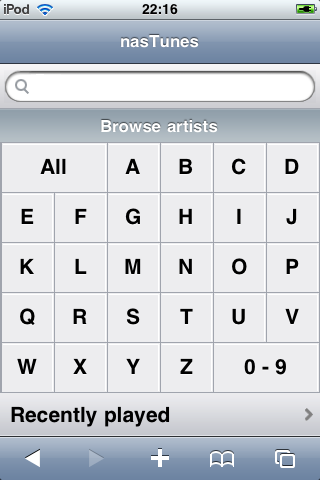 Start screen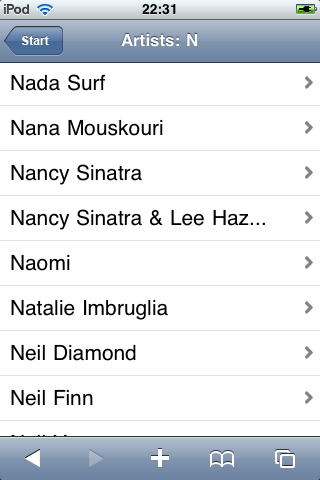 Artist list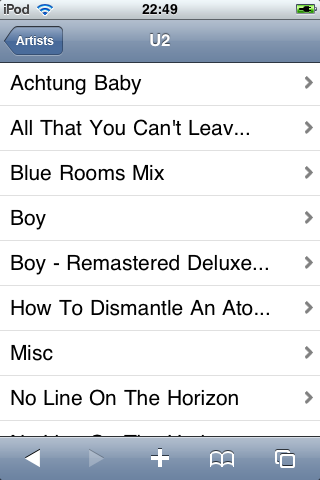 Album list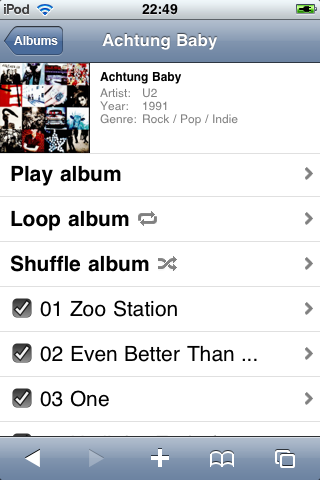 Track list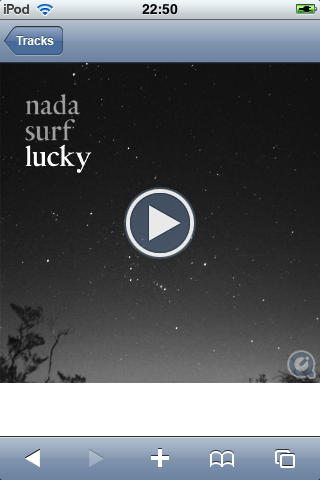 QuickTime Player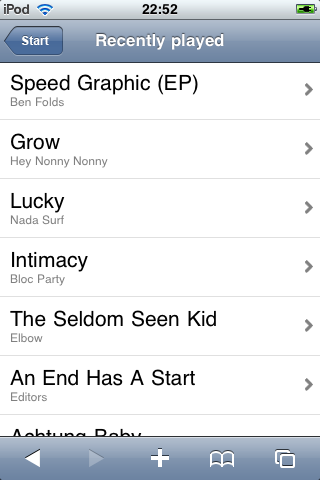 Recently played list

Full Track list